CenturionPro HP1 BUCKER – For all your harvest solutions
R360,979
HP refers to "High Performance" and utilizes two rollers that pull the stem into the machine and pop the flowers off . This allows you to continuously feed the bucker for more efficient de-stemming and results in the industry's highest buck rate per hour.
The HP1 has a single workstation that is suitable for tabletop use or can be combined with an optional bucker stand. With various holes, the HP1 accepts wet or dry stems up to 1.9 cm and can buck 80 kg (or more) per hour, replacing 5-7 humans. Made of stainless steel and anodized aluminum, it is robust as well as easy to clean.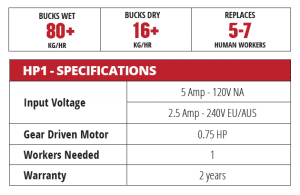 Add a Bucker Stand
HP1 BUCKER & STAND (enquire for pricing)
For an additional cost you can upgrade your HP1 bucker to include a bucker stand. Make the most of your processing time with added ease of de-stemming and improve portability as our bucker stands operate on a 4 wheel system.
The bucker stand comes standard with industrial casters.
Prices are subject to change due to volatile exchange rate.
Watch video below to see it in action!